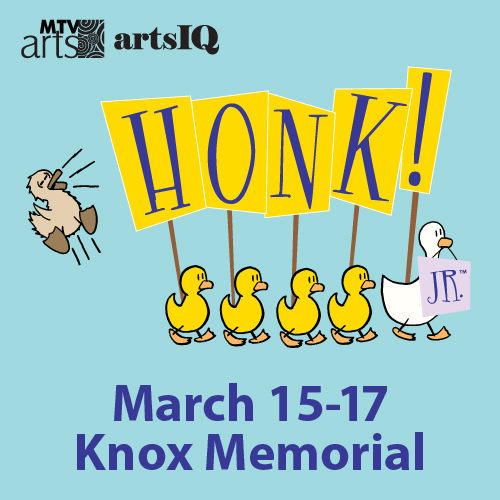 Friday, March 15, 7:30 p.m.
Saturday, March 16, 2 p.m.
Saturday, March 16, 7:30 p.m.
Sunday, March 17, 2 p.m.
VENUE:
Knox Memorial Theater
(112 E. High St, Mount Vernon, OH 43050)
Box Office opens one hour prior to curtain. Please plan to arrive at least 15 minutes before curtain. All seats are reserved.

$20 Main floor
$15 Balcony
$3 discount children 10 and under
All patrons including small children must have an assigned seat.
Title Sponsor Ariel Corporation
Book and Lyrics by Anthony Drewe
Music by George Stiles

Based on Hans Christian Andersen's "The Ugly Duckling."
Directed by Serra Barrett
This delightful adaptation of the beloved fable and the award-winning musical is a heartwarming celebration of what makes us special.
Ugly looks quite a bit different from his darling duckling brothers and sisters. The other animals on the farm are quick to notice and point this out, despite his mother's protective flapping. Feeling rather foul about himself, the little fowl finds himself on an adventure of self-discovery, all the while unknowingly outwitting a very hungry Cat. Along the way, Ugly meets a whole flock of unique characters and finds out that being different is not a bad thing to be.